Account and shop settings
Click the Settings tab on the top navigation bar.
Account Settings




Your personal, company and invoice information
Change your password
Upgrade or downgrade to a different version
Delete your account

Shop settings




Change your shop's name, slogan and web address
Set languages ​​and currencies
Display settings and preferences
Account Settings

Navigate to Settings > Account Settings to set your contact information.
Your email address will never be shown in your shop: this is to prevent spam. Customers can contact you on the Contact page through a spam protected contact form.


Please make sure that this email address is correct and that you regularly check your e-mail! Orders and e-mails from the contact form are sent to this address.


After changing your email address you will need to confirm again, this is to ensure that the email address is correct.
Some shop owners prefer to remain anonymous and don't show their address and/or telephone number in their shop. This will have a negative impact on your sales because customers might question the reliability of your shop. Make sure that you are always accessible to your customers.
Your company and contact information are used for billing and registering domain names. You are responsible for the accuracy of this data. If this information is incorrect, the registry can delete your domain name.
Changing your password

Here you can change the password for logging in into your account. Preferably choose a password that is a combination of lowercase and uppercase letters and numbers. This password gives you full control over your shop, so be careful with it!
We will never ask for your password by e-mail and we will never send you your password. If someone asks your password via e-mail or phone: this may be a scam!
If you have forgotten your password, you can use the password recovery tool to choose a new password.
Deleting your shop

If you want to delete your account, all your data from the EasyWebshop database will be removed. This includes your shop, all settings, products, customers, orders from your customers and your domain names. Only delete your account if you are really sure you don't want to make further use of your shop!
This section doesn't apply if you want to close your shop for a certain amount of time. You can close your shop by going to Settings > Shop Settings.
Deleting a shop is definitive! There is no possibility to restore your shop.
Shop version

Here you can change the version of your shop (Upgrade or Downgrade).
Shop Settings

You can find these at Settings > Shop Settings.
Status

If you don't want your shop to be publicly accessible, you can set it to Closed. Visitors then receive the message to come back later. Change the status to Open to make your website publicly available.

Shop name and Slogan

The name and slogan of your shop are important for indexing in search engines like Google. Both are also implemented into the layout of your shop. A slogan is not mandatory.

Do not choose an existing trade name that is protected as intellectual property by a patent.

Shop sub domain

This is the web address on which your shop is always accessible, even if a domain name hasn't been attached. Don't change the address too often: this will negatively affect your ranking in search engines.

This shop contains adult content

This option is required if you place content in your shop that is not suitable for minors. A warning is displayed when entering the site and the visitor must indicate that he or she is an adult.

Internal categories

Your shop is automatically included in our directory. This way, the website is quickly indexed by search engines. Set the three most relevant categories.

Language and currency choice

Here you can choose the available languages for your shop and the default language when a customer visits your shop. Visitors can choose a language if your shop is multilingual. If the language of the visitor could not be detected automatically, the default language is shown.
Home page
Shopping cart / Shopping basket / Shopping bag

This allows you to set the appearance of the shopping cart.

You can also disable the shopping cart. If you disable it, your shop becomes a showcase website where customers can only look at your products (they can't purchase them online).



Slideshow

Here you can activate or deactivate your slideshows.

Number of products on the homepage

Set this to 0 if you don't want to display the last added products or the products with status Promote this product on the homepage on the homepage.



A frequently asked question to our support is why there are no products displayed on the home page, while this is set in the product status. This is because this option is set to 0.

Show categories on the homepage

Choose here whether you want to display the main categories on the homepage or not.

Display category levels

Choose here how you want the category menu to be displayed in your shop.



| Value | Result |
| --- | --- |
| 0 - Invisible | The category menu is not displayed |
| 1 - Default | Only main categories are displayed |
| 2 - Detailled | Main categories and subcategories are displayed |

Number of partners on the homepage / Display "Become a partner"

You can limit the number of partners displayed on the homepage or display no partners at all.
Product lists
Product display

Your products can be displayed in different ways. Here you can set the default view and your visitors can also change this in your shop.

Number of products displayed horizontally

It's possible to display the products side by side (horizontally) or under each other (vertically). Make sure that the layout remains intact when you display many products side by side. This setting is not applicable in the "List" product display: when this setting is activated, all products will be displayed under each other.

Sort

You can sort your products according to specific criteria. The last added products on the home page of your shop are not included here.



A frequently asked question to our support: my products are sorted in the wrong way.





Make sure that the field you want to sort (Item, Name, Price) is filled for each product.
Computers sort character by character. Article A8 comes after article A12 because 8 > 1. Solution: article A08 comes before article A10.

Drop down menu: product display & sort

At the top of the product lists in your shop, there are two menus that allow your visitors to choose how your products are displayed and how they are sorted. This way they can choose to view the products in list format or sort them by price.

By default, this option is enabled. If you don't want this, you can hide the menus by disabling this option.

Shopping gallery

The Shopping Gallery is a photo gallery for your products. This makes your website more user friendly and makes browsing through the products easier. The purpose of this module is to let your customers view more products in order to prolong their visit on your website.

Display table borders

You can show or hide the borders between the products.
Product detail page
Layout

This allows you to choose the layout of the product detail page.
You can display product properties in list format or as a drop down menu.

Display stock

Yes: the exact stock is displayed in the list view and on the detail page of your products.
No: the stock is never displayed. However, customers can not order more items than available in stock.
Indication: if there are less than 10 products in stock: "Limited stock" is displayed, otherwise "Large stock" appears.

When the product status is set to Sold out or Available, but not in stock, the stock is not displayed.

Photo zoomer

Your customers can view the main product photo in high quality with the photo zoomer. If they move their mouse cursor over the photo, the zoomed version appears at the right side of the picture.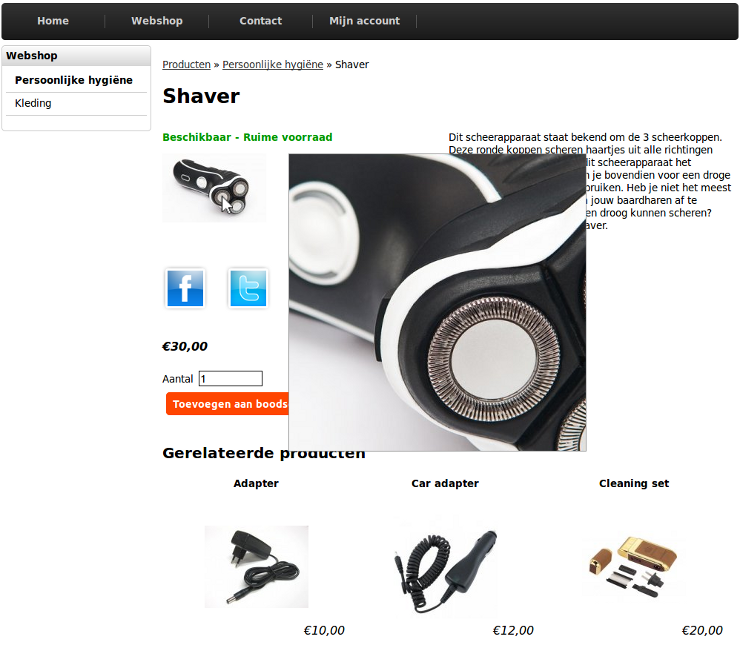 After activation, the photo zoomer will be active on all new main product photos that are uploaded. The minimum photo size is 600x600 pixels, the maximum photo size is 1280x800 pixels. Larger photos are automatically scaled proportionally.
Info page
Display company info or personal data on the website

This will show your business information on the info page and on the contact page. It's recommended to activate this option: an "anonymous" shop without contact information will not gain trust with your customers. You can also disable this option and place your contact information in the desired layout on the info page using the CMS.

Checkout procedure

Here you can set the procedure your customers must follow to order a product. This setting has a major impact on the operation of your shop.

You can find this at Settings > Customers checkout.

If Customers checkout is not displayed in the menu, first adjust the user level to Advanced, at Settings > User experience level.

Guest

Your customers fill in their details and get in touch with you via email. Creating a customer account is not required.

Account

Your customers need to register in the shop to get their own account. In this account, they can follow up their orders. You can manage customers, restrict account access or send newsletters.

Hybrid

This is a combination of Guest and Account checkout. Your customers can choose whether they make an account or checkout as a guest. This is the default and recommended setting.

Private

Only existing customers (or customers that you have added yourself) can place an order.

This option disables account registrations in your shop.

The default setting is Hybrid. If there's no reason to change this, we recommend you to keep this setting.

B2B / B2C

B2B / B2C: when ordering, customers can choose between Private and Professional. This is the default setting.
B2B: customers have to fill in a company name and VAT number.
B2C: customers can't fill in a company name or VAT number. The price excluding VAT is not displayed next to the product price.

---